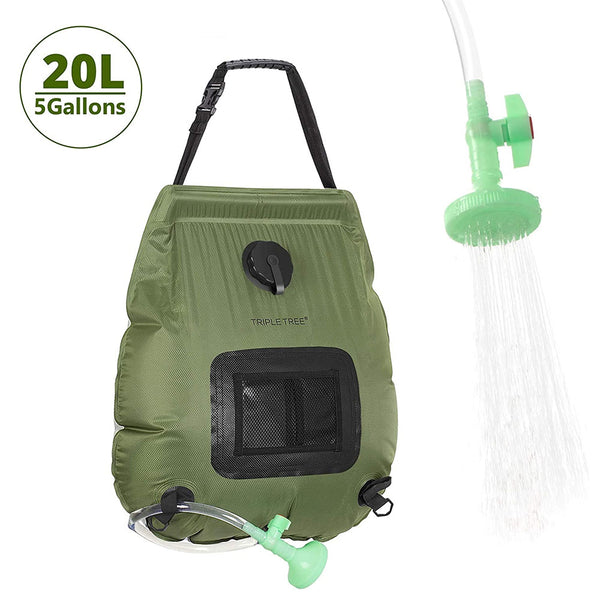 TRIPLETREE Camping Solar Shower Bag 5 Gallons/20L with On-Off Switchable Shower Head and Removable Hose
Out Of Stock
Safe Heat Absorbing Design - This solar camping shower bag heats water to 116°F (47°C) in 3 hours with direct sunlight. And it is equipped with a temperature indicator (°C/°F) to make you quickly know the temperature of the water to ensure safe use. You just need place the bag into the sun and it will absorb and heat the water.

Large Water Capacity - This camping shower bag can carry up to 5-Gallon/20L of water for outdoor showers, let you enjoy a better and refreshing shower anywhere.

High Quality Materials - This shower bag is made by environmental protection and leak proof PVC materials. This deluxe version with multiple layers can further enhance the leak proof feature and make it even more durable.

Upgraded Shower Accessories - It supplied with a long enough hose, a water tap and an advanced shower head which is very adjustable for different water flows to control water yield.

Durable & Portable - Our shower bag with strong handle makes it more durable to hang, and the front pocket design helps you keep soap, shampoo and other shower accessories. Brings you a much better showering experience!
Shipping Ways: We support worldwide shipping.

Shipping Dates: Delivery usually need 5-7 Business Days

Why Choose Us:

Confidence in Quality: More than decade years focus on improving our product quality, casting high quality by technology.

24 Hours Response: Providing a full range of professional service within 24 hours. Email us at service@tripletreebrands.com or you can call +1 (626)225-2908.

Practical & Fast Delivery: We have domestic warehouse in the US & Europe, it's easy to enjoy FREE shipping with your purchase.

Long-time warranty: We guarantee your purchase experience without risk here, items can be returned within 30 days, and we provide 1 year warranty.