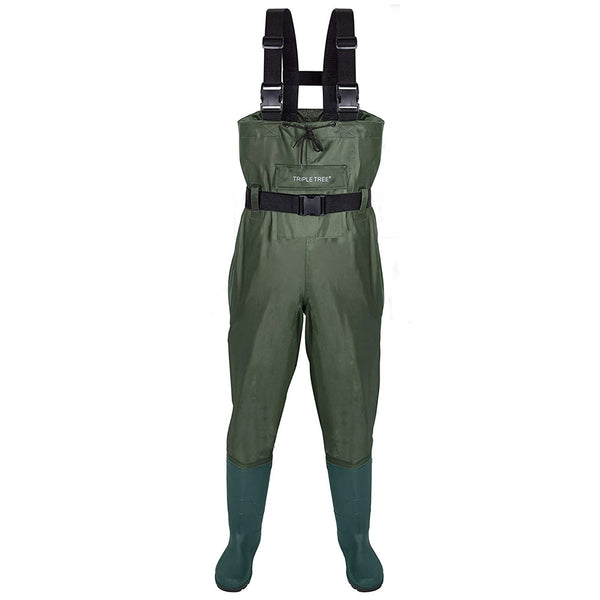 TRIPLETREE Hunting Fishing Chest Waders With Boots and Wading Belt For Men & Women (Size9-13)
Out Of Stock
Two-ply waterproof design: TRIPLETREE Chest Waders was made of upgrade nylon with two-ply waterproof fabric. Waterproof boots and reinforced stitches ensures 100% waterproof reliability. Water Intrusion Resistance processing helps seal out water and dirt during long time on the water.

Wear-resistant & Comfortable: The boots are made from PVC. Slip-Resistant deep angled cleated design that enhances slip resistance and stability underfoot. Thickened soles can protect your feet from scratching by sharp rocks in the riverbed. Keep dry and warm, handle even the toughest work and sport situation.

Lightweight & Durable: Rugged nylon with two-ply upper fabric, the waders is 35% lighter than traditional rubber waders. Easy to fold, letting you easily walk in the water and fitting into any backpack!

User Friendly Design: Adjustable elastic suspenders with durable quick release buckles. Equipped with waist belt & chest drawstring, it can be adjusted according to your height. built in flip-out chest pocket to organize personal belongings.

Wide Application: Specially-Protector chest waders for your adventures, e.g. fishing, hunting, farming work, mining, car-washing and many other daily messy situation.

Attention: If your Feet are Wide or you need to wear Thick Socks, please Choose ONE SIZE LARGER than usual.
Shipping Ways: We support worldwide shipping.

Shipping Dates: Delivery usually need 5-7 Business Days

Why Choose Us:

Confidence in Quality: More than decade years focus on improving our product quality, casting high quality by technology.

24 Hours Response: Providing a full range of professional service within 24 hours. Email us at service@tripletreebrands.com or you can call +1 (626)225-2908.

Practical & Fast Delivery: We have domestic warehouse in the US & Europe, it's easy to enjoy FREE shipping with your purchase.

Long-time warranty: We guarantee your purchase experience without risk here, items can be returned within 30 days, and we provide 1 year warranty.