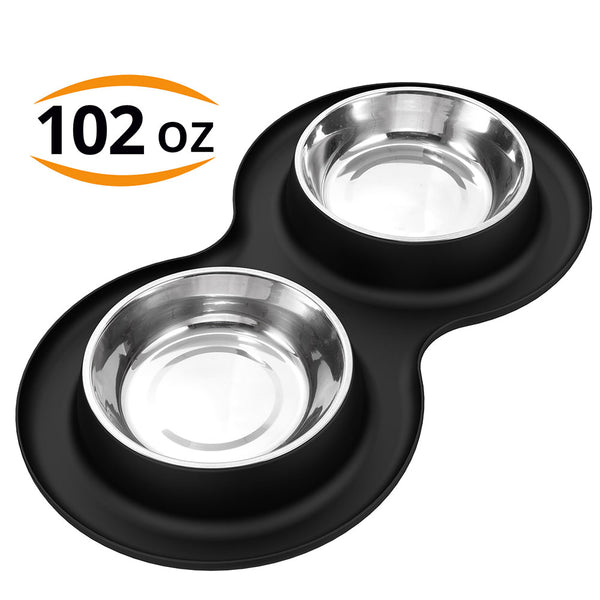 TRIPLETREE Large Stainless Steel Pet Bowls for Food and Water
Out Of Stock
Full Dinner Set: Set of 2 stainless steel Dog Bowls 51oz x 2, the bowls size: 2.3" height, 8.2" diameter, Perfect for pets up to 90lbs.

Non-Skidding & Flipping: Silicone mat keeps the bowl from skidding on the floor and doesn't slide all over the place when your dog is eating, the mat size is 24.5" x 13".

Rust Resistant Stainless Steel: Made of high quality stainless steel with an unique silicone mat, it's your BEST choice for your pet's feeding time. Both silicone mat and stainless steel bowl are dishwasher safe.

Heavy duty made: the dog bowls set weight is 2LBS, with the silicone mat, it will stay in your floor safe and none movable.

Cat bowls / dog bowls perfect for your pets up to 90lbs: Dogs (such as Golden Retrievers, Labradors, Samoyeds, Snow Ruinas, Teddys, etc.) cats, rabbits, ferrets, guinea pigs, and other pets.
Shipping Ways: We support worldwide shipping.

Shipping Dates: Delivery usually need 5-7 Business Days

Why Choose Us:

Confidence in Quality: More than decade years focus on improving our product quality, casting high quality by technology.

24 Hours Response: Providing a full range of professional service within 24 hours. Email us at service@tripletreebrands.com or you can call +1 (626)225-2908.

Practical & Fast Delivery: We have domestic warehouse in the US & Europe, it's easy to enjoy FREE shipping with your purchase.

Long-time warranty: We guarantee your purchase experience without risk here, items can be returned within 30 days, and we provide 1 year warranty.