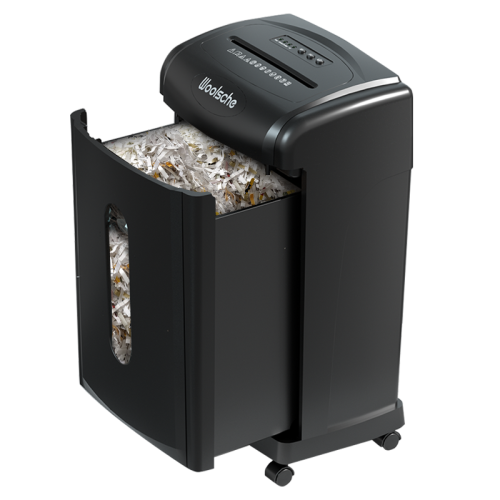 Paper Shredder,18-Sheet Cross Cut with 9 Gallons Pull Out Bin,P4 Security Level,Shred CD and Credit Card,High Working Speed Quite Working
Out Of Stock
Product Features
Description:Paper shredder cross cut
Shred capacity: 18sheets
Security level:p4
Noise level: 58dB
Shred size:4*38mm
Working width:225mm
Bin volume : 30L
Duty cycle: 15mins on /45mins off
Shredder speed: 2.0m/min
Paper Shredder Heavy Duty High Security 7.926gal Cross Cut Paper Destoryer
1.18 Sheet Large Capacity//: Max can shred 18 sheets A4 80g paper,credit card,paper,staples,clips all can be shredded. 2.Super High Security Level//: P4 Cross Cut makes the shred size to 4*38mm(1*9.65inches) for 18 sheets at one time, no need to remove staples or clips. Also shreds credit card / CD / junk mail (one at a time). SEVERAL small paper particles might be left in the basket or cutter due to full quality test by the manufacturer. 3.58dB Ultra-Quiet Shredding & Durable//:58 dB low noise creates the quiet and comfortable atmosphere. Also, SPCC blade can prevent 99% damages to shredder from paper jam and prolong its life span. 4.7.9-gal Extra Larger Basket//:7.9 gallons pull out bin that offer less frequent and less dusty emptying. 4 removable casters help to park and move easily.
[Powerful Shredding Capability]The Paper Shredder is capable of shredding up to 18 sheets of paper at once, no need to remove staples or clips,making it ideal for handling large volumes of documents efficiently.
[Cross-Cut Shredding]With its cross-cut shredding technology, this shredder provides a high level of security (P4) by turning your confidential documents into small, unreadable particles, ensuring the protection of sensitive information.
[Large Capacity Bin]The 9-gallon pull-out bin provides ample space for shredded paper, reducing the need for frequent emptying and allowing for uninterrupted shredding sessions.4 removable casters help to park and move easily.
[Versatile Shredding]In addition to paper, this shredder can also shred CDs,credit cards and junk mail,providing a comprehensive solution for disposing of various types of sensitive materials.
[High Working Speed and Quiet Operation]This shredder offers a high working speed, allowing you to quickly complete your shredding tasks. Despite its powerful performance, it operates quietly, minimizing noise disruptions in your workspace.58 dB low noise creates the quiet and comfortable atmosphere.
Shipping Ways: We support worldwide shipping.

Shipping Dates: Delivery usually need 5-7 Business Days

Why Choose Us:

Confidence in Quality: More than decade years focus on improving our product quality, casting high quality by technology.

24 Hours Response: Providing a full range of professional service within 24 hours. Email us at service@tripletreebrands.com or you can call +1 (626)225-2908.

Practical & Fast Delivery: We have domestic warehouse in the US & Europe, it's easy to enjoy FREE shipping with your purchase.

Long-time warranty: We guarantee your purchase experience without risk here, items can be returned within 30 days, and we provide 1 year warranty.