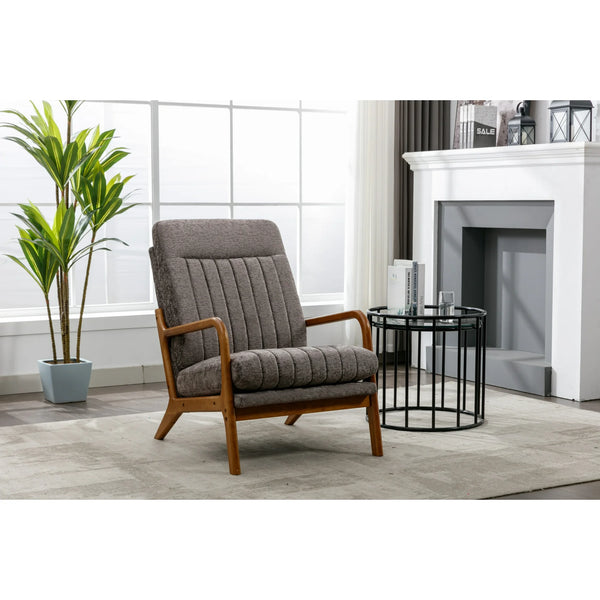 Mid Century Modern Accent Chair with Solid Wood Frame, Upholstered Living Room Armchair with High-Back and Padded Seat, Comfy Reading Chair Lounge Chair for Bedroom, Office, Studio, Dark Gray
Out Of Stock
Introducing the mid century modern accent chair – a fusion of comfort, style, and versatility. Crafted to provide both relaxation and aesthetic appeal, this chair offers a serene space to unwind while becoming a statement piece in any room. Whether in your bedroom, office, or studio, its luxurious design and comfort promise a cozy experience that's visually pleasing as well.

Upholstery Material: velvet
Seat Fill Material: Foam
Weight Capacity: 250 lb
Frame Material: Solid +PlyWood
Arms Included: Yes
Removable Cushion Location: Seat
Leg Material: Rubber wood
Country of Origin: China
Product size: 35.83'' H x 25.59'' W x34.65'' D
Arm Height - Floor to Arm: 22.05''
Seat height: 16.93"
Back height: 25.98"
Seat depth: 20.67"
Seat Width: 23.23"
Pillow Size: 31.5*23.62*8.86INCH
Net /Gross weight: 31.03 /40.47LBS
【Premium Materials】Crafted with a solid wood frame, this chair boasts durability and reliability. The combination of the solid wood and the upholstered seat ensures a lasting and comfortable seating experience.
【Iconic Mid Century Style】Immerse yourself in the iconic charm of mid century modern design. This accent chair effortlessly blends retro aesthetics with contemporary living, making it a statement piece that enhances any room's visual appeal.
【Unmatched Comfort】Experience the epitome of relaxation with the high-back design and padded seat. Whether you're reading, lounging, or simply enjoying a quiet moment, this chair provides unparalleled comfort that invites you to unwind.
【Versatile Functionality】Whether in your bedroom, office, or studio, this accent chair shines as a versatile piece. Its adaptable nature makes it an ideal reading chair, cozy lounge spot, or even a stylish statement in your space.
【Effortless Assembly】Setting up your new favorite spot is a breeze. With a design that prioritizes user-friendly assembly, you can enjoy your comfortable lounge chair in no time. The straightforward assembly process ensures that you can relish its comfort and style with minimal effort.
Shipping Ways: We support worldwide shipping.

Shipping Dates: Delivery usually need 5-7 Business Days

Why Choose Us:

Confidence in Quality: More than decade years focus on improving our product quality, casting high quality by technology.

24 Hours Response: Providing a full range of professional service within 24 hours. Email us at service@tripletreebrands.com or you can call +1 (626)225-2908.

Practical & Fast Delivery: We have domestic warehouse in the US & Europe, it's easy to enjoy FREE shipping with your purchase.

Long-time warranty: We guarantee your purchase experience without risk here, items can be returned within 30 days, and we provide 1 year warranty.