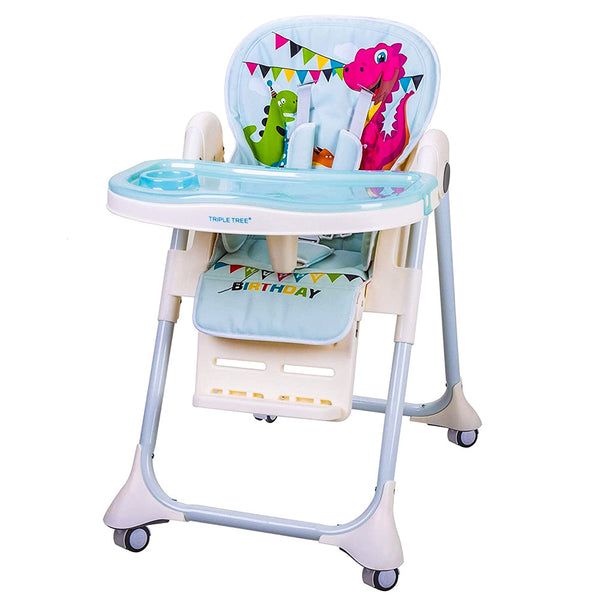 TRIPLETREE Baby High Chair With Five-Point Seat Belt Foldable & 7 Height Adjustable Waterproof
Out Of Stock
Five-Point Seat Belts: The ordinary high chair for baby only has three-point seat belts in the market, it is not enough safe for your baby. Our baby high chair with 5-point seat belts to bring safer to your baby.

Foldable, Convenient: Press the grey round buttons on the left, right of seat, your right foot pushes the back of the chair. The folding process only takes 10 seconds. So, you can put in a corner of your home, or put in car trunk easily.

Adjustable Angle Seat: The seat can adjust to three angles. 110°for baby siting, eating, playing toys; 130°for relaxing; 150°for feeding. The universal wheels can rotate 360° horizontally, let mother push convertible high chair easier.

PU Waterproof Cushion: If your baby pours juice, milk on the cushion accidentally, don't worry, the PU cushion is waterproof material, you only need to use the wet towel to clean it, save you a lot of time and convenient very much.

2 Detachable Plates: After your child had dinner on the high chair, you can take the plate off, and wipe it use a wet towel or wash it in your kitchen. It is divided into upper and lower plates, water green plate, and white trays.
Shipping Ways: We support worldwide shipping.

Shipping Dates: Delivery usually need 5-7 Business Days

Why Choose Us:

Confidence in Quality: More than decade years focus on improving our product quality, casting high quality by technology.

24 Hours Response: Providing a full range of professional service within 24 hours. Email us at service@tripletreebrands.com or you can call +1 (626)225-2908.

Practical & Fast Delivery: We have domestic warehouse in the US & Europe, it's easy to enjoy FREE shipping with your purchase.

Long-time warranty: We guarantee your purchase experience without risk here, items can be returned within 30 days, and we provide 1 year warranty.