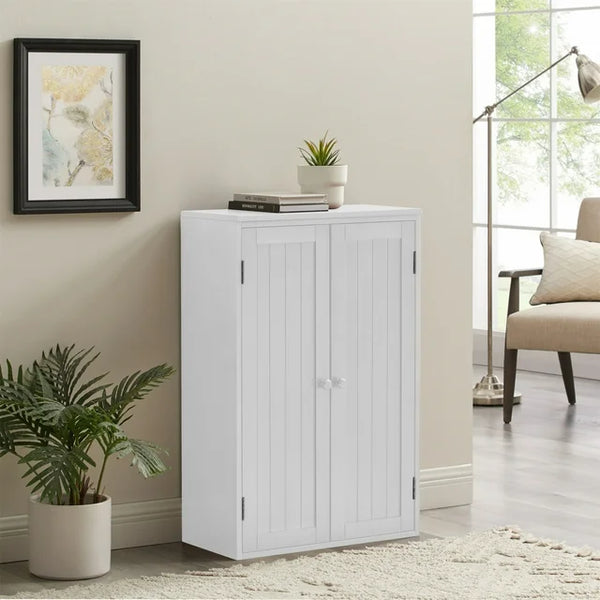 Bathroom Storage Cabinet,Wooden Floor Cabinet with Adjustable Shelf and Double Door,Free Standing Storage Organizer for Bathroom, Bedroom,Living Room,White
Out Of Stock
Description:Whether you need an attractive wall storage cabinet in your bathroom for extra towels, or more pantry space in your kitchen, this small cabinet with doors is an efficient way to create additional storage in your home.
Color: White
Material: MDFD
imensions:23.25 x 12 x 36 inch
Magnetic latching devicesEach cabinet door has a magnetic hardware, the magnetic door closing hardware keeps the front panel doors closed securely in place.
Hinges keep stableThe cabinet doors are attached to the cabinet by metal hinges to keep its structure stable and without worrying about damage.
Wood door knobsEach of the cabinet doors have a fetching wood door knob to lend a bit of traditional style to this storage cabinet.
Height-adjustable shelfThere is a shelf in the cabinet, this middle shelf can be adjusted by moving the shelf pegs into the desired hole height.

[Not Only for Bathroom]Use this cabinet for storing extra items in your dining area, put it next to your tv/fireplace stand in the family room to hold dvds, as a nightstand to hold a reading lamp, cd player, and the design of the open shelf makes it easy to charge any devices you have, or use this for the laundry room to store the detergents, dryer sheets, and all laundry items....everything is within your control and function is up to you.
[Ample Storage Space]A smooth top surface, 1 adjustable shelf inside the bathroom cabinet allows you to store tissues, lotions, soaps, toilet paper, wipes, and cosmetics. Keep it in the bathroom for easy access to daily necessities!
[Safety for Your Home]Wall anchor hardware is included to secure the storage cabinet to the wall. This will prevent accidental tipping over to keep you and your loved ones protected.The cabinet doors are attached to the cabinet by metal hinges to keep its structure stable and without worrying about damage.Crafted from premium MDF, the bathroom cabinet is more durable.Not only does it make assembly much easier, the paint finish adheres best to this type of wood.
[Better Integrate Into Your Home]No matter whatever your home style is, our bathroom cabinet will perfectly match well with it. Available in black, walnut or white paint finish options, this storage cabinet has matching wood door knobs for stylish appeal.
[Worry-Free Assembly]We have prepared clear and concise instructions and installation tools in the package, you can refer to the installation manual to complete the assembly easily. Feel free to contact us if you have any questions.
Shipping Ways: We support worldwide shipping.

Shipping Dates: Delivery usually need 5-7 Business Days

Why Choose Us:

Confidence in Quality: More than decade years focus on improving our product quality, casting high quality by technology.

24 Hours Response: Providing a full range of professional service within 24 hours. Email us at service@tripletreebrands.com or you can call +1 (626)225-2908.

Practical & Fast Delivery: We have domestic warehouse in the US & Europe, it's easy to enjoy FREE shipping with your purchase.

Long-time warranty: We guarantee your purchase experience without risk here, items can be returned within 30 days, and we provide 1 year warranty.