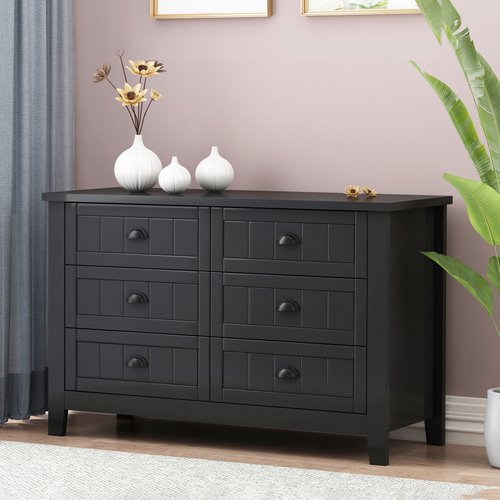 6 Drawer Dresser for Bedroom, Chest of Drawers with Shell-shaped Handle for Kids Adults, Wood Storage Tower Clothes Organizer, Large Storage Cabinet for Closet, Living Room, Hallway Antique Black, C
Out Of Stock
Easy to Assemble: Assembling this multifunctional dresser takes up very little time, with clear and simple assembly instructions. Please feel free to contact us if you have any questions or suggestions.
Three-in-one wooden tenon link, thickened top plate, 15mm matte blister surface, 25mmPB double-paste triamine paper for four legs and top plate, 15mmPB double-paste triamine paper for the rest of the cabinet, 3MMMDF double-paste triamine paper for the back plate and the bottom, drawer Slide with Addams 350mm base slide, black shell handle.
Beech solid wood handle and solid wood thickened feet, strong stability, beautiful grade.
Solid wood color wood grain with warm white matched, modern sense.
Brand slide track, all hardwares are durable.
Large drawer box design, can accommodate toys, clothing, magazines, red wine, bowl spoon and so on all can accommodate objects, the use of space is diverse, can be placed in the living room, bedroom, restaurant lamp position, very beautiful and generous .
Shipping Ways: We support worldwide shipping.

Shipping Dates: Delivery usually need 5-7 Business Days

Why Choose Us:

Confidence in Quality: More than decade years focus on improving our product quality, casting high quality by technology.

24 Hours Response: Providing a full range of professional service within 24 hours. Email us at service@tripletreebrands.com or you can call +1 (626)225-2908.

Practical & Fast Delivery: We have domestic warehouse in the US & Europe, it's easy to enjoy FREE shipping with your purchase.

Long-time warranty: We guarantee your purchase experience without risk here, items can be returned within 30 days, and we provide 1 year warranty.