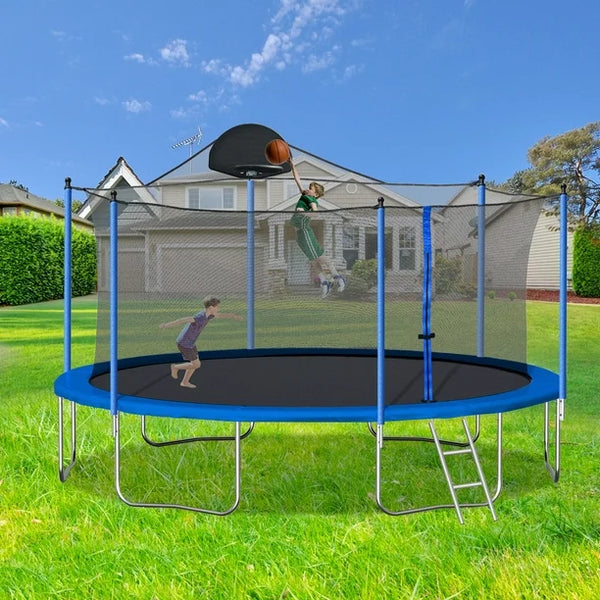 14FT Round Trampoline, Outdoor Trampoline with Basketball Hoop and Ladder, Recreational Trampoline with Safe Enclosure Net, ASTM Approved Outdoor Trampoline for Kids Teens Adults
Out Of Stock
12/14 ft trampoline with backboard
Blue pe cover,with backboard ,5pcs legs,70pcs spring
MAX LOAD:130LBS/240LBS

Product Information

Product Type: 12FT 14FT trampoline with basketball hoop, Safety Enclosure Net and ladder
Main Color: Blue
Number of Springs: 70/72pcs
Main Material: Metal,PP
Products size:12FT/14FT
Weight Capacity: 130lbs/240lbs


12FT Dimensions

Product Dimensions: 141.70" * 141.70" * 100.40"(L*W*H)
Weight (lbs.): 91.20LBS
Package Size: 47.20" * 16.50" * 13.00"(L*W*H)
Weight (lbs.): 100.22LBS


14FT Dimensions

Product Dimensions: 166" * 166" * 110"(L*W*H)
Weight (lbs.): 110.00LBS
Package Size: 47.24" * 16.53" * 12.99"(L*W*H)
Weight (lbs.): 119.39LBS


Kind Reminder: Due to the large size of the product and inconvenient transportation, once the order has been shipped, we only accept the return requests due to quality issues. Hope you can understand.  
[More Sturdy &Durable] 14FT Trampoline frame is made of fully galvanized steel, sturdy and durable and powder-coated technology makes it anti-rust and more durable even in wet weather. 6 W-shaped legs with 12 balanced contacts regularly support the trampoline frame, increasing the stability and balance.
[Premium Bouncing Experience] 72 high-tension steel springs and high-strength trampoline jumping mat woven together provide strong elasticity and stability. Safety net is made of tightly woven UV resistant polyethylene, the force at a single point up to 20KG.
[ASTM Approved Trampoline] 14FT trampoline has got tested ASTM F381& F2225 and it has also got tested in the lab. Safety net, spring cover, jumping mat and tubes are labeled with sufficient warnings to avoid injury. Say goodbye to danger.
[Safe and Spacious Jumping Space] Sturdy galvanized steel poles with foam and safety nets are placed on the periphery of the trampoline guard increasing the jumping space and trampoline safety. The spring cover pad covers all the springs, and at the same time, the safety cover is closely integrated with the jumping mat. The no gap design eliminates harm for kids and enable children to play happily and safely.
[Easy Assembly & Long Warranty] Our 12/14 FT trampoline is easy to assemble. All parts are listed and numbered in the instruction. The specific assembly steps are shown in picture form which is easy for you to understand. You can follow the steps to install. If you have any questions during the installation process, please contact us in time.
Shipping Ways: We support worldwide shipping.

Shipping Dates: Delivery usually need 5-7 Business Days

Why Choose Us:

Confidence in Quality: More than decade years focus on improving our product quality, casting high quality by technology.

24 Hours Response: Providing a full range of professional service within 24 hours. Email us at service@tripletreebrands.com or you can call +1 (626)225-2908.

Practical & Fast Delivery: We have domestic warehouse in the US & Europe, it's easy to enjoy FREE shipping with your purchase.

Long-time warranty: We guarantee your purchase experience without risk here, items can be returned within 30 days, and we provide 1 year warranty.